Faces 1915 to 1945
ROBERT HALBERLING

LEO SCHEIBNER

HJALMAR SCHACHT
(center)

WALTHER FUNK
(center)

FRANTIšEK CHVALKOVSKý
(left rear)
1. ROBERT HABERLING – *30.01.1857-10.03.1929+ Germany – founder in 1907 of today's Haberling GmbH, international movers/relocations. Probably planned, owned and first resident of the villa.
2. LEO SCHEIBNER. – Germany – *?.?.18??-11.01.1931+ Director of the Reichskredit Gesellschaft AG – Photographer: Dephot – 1929. All rights reserved by Granger, New York, NY. www.granger.com
3. HJALMAR SCHACHT. *22.01.1877-03.06.1970+ Banker, Politician, Germany – with his first wife Luise and Minister of Justice Franz Guertner (right) attending a concert at Minister of the Interior Wilhelm Frick's home – Photographer: Max Ehlert – Published by: 'Die Dame' Nr. 2/1935. All rights reserved by Granger, New York, NY. www.granger.com
4. WALTHER FUNK. – *18.08.1890-31.05.1960+ Business Journalist, Politician, Germany – in newsreel congratulates ADOLF HITLER on surviving the 1944 assassination attempt.
5. FRANTIŠEK CHVALKOVSKÝ. – *30.07.1885-25.02.1945+ Diplomat, Foreign Minister, Czechoslovakia at left, in newsreel seen arriving Berlin-Anhalter Bahnhof with President EMIL HÁCHA (center) on 14.03.1939 to sign the agreement establishing the German "Protektorat".
I lived in the expropriated villa at Sven-Hedin-Strasse 11 from autumn of 1970 through summer 1971. As I typed my letters home in the elegance of the wood-paneled library I thought it fit with the folklore that Hjalmar Horace Greeley Schacht — one of the 20th century's most complex figures — had lived there. But recently — its role in Cold War and New World Order intelligence work having ended — it is now possible to look at its entire history. The following work is incomplete, but still contains enough surprises. An attached PDF will provide a chronology and references for scholars. And did Schacht really ever live there? Did General Eisenhower sleep there? — rwr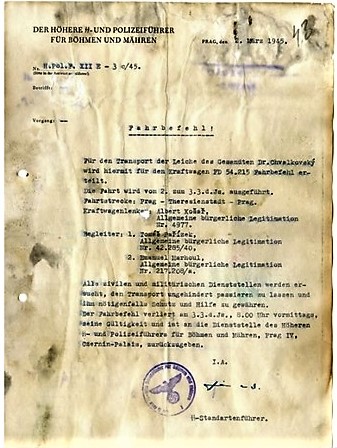 by R. W. Rynerson
On orders from Berlin, a "Fahrbefehl" (travel order for a motor vehicle) was issued in German-occupied Prague to three Czechs. It was tightly restricted so that no subversive acts would be facilitated. SS-Standartenführer I.A. knew that the Führer had promised cooperation with the residual puppet Czech government, but Berlin did not have to deal with them every day!
The date was 2 March 1945. He added the requirement that the travel directly between Prague and Theresienstadt be completed by 8:00 a.m. the next day. The document then must be returned to his office.
The men's mission: to bring home the body of František Chvalkovský, recently residing in Berlin at Sven-Hedin-Strasse-11. As the Third Reich was crumbling around them, the Führer sent a floral wreath in honor of the last diplomat of the pre-1945 Czech government.
Days of Empire
On 1 November 1904, after thirty years of steaming past, Wannseebahn suburban trains began stopping at a new station, Zehlendorf-Beerenstrasse. The station, since 7 March 1987 known as Mexikoplatz, was a joint project of real estate developers (Zehlendorf-West Terrain-Aktiengesellschaft), the local government of Zehlendorf and the Royal Prussian Railways. Trains rolled into the center of Berlin at the Wannseebahnhof, on the west flank of the major Potsdamer Bahnhof. After centuries as farmland, Zehlendorf-West was to become an elegant suburb.
By 1908 the famed Bankierzüge (Bankers' trains) provided express service on the main line tracks into Potsdamer Bahnhof itself, speeding up commuter travel for customers from stations between Wannsee and Zehlendorf, including Zehlendorf-Beerenstrasse. [These tracks were later used for U.S. Army trains.]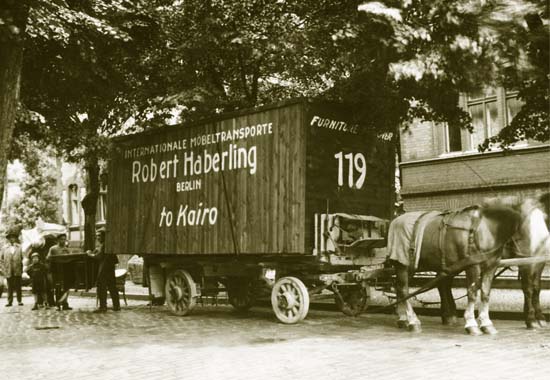 In February 1914 design of a two-story, single family Landhaus, as large suburban homes had been labeled in Germany, was commissioned for property at Prinz-Friedrich-Karl-Strasse 11. Prominent Schlachtensee architect John Kruse designed the villa, as houses of this type were beginning to be called. Kruse's best regarded pre-WWI project is a schoolhouse on Dübrowplatz. The German Empire, united only in the previous two generations, was thriving. Its products were sold around the world, to the consternation of older empires. Architects responded with "heavy" buildings that almost swagger. Construction manager was listed as Robert Haberling of Berlin.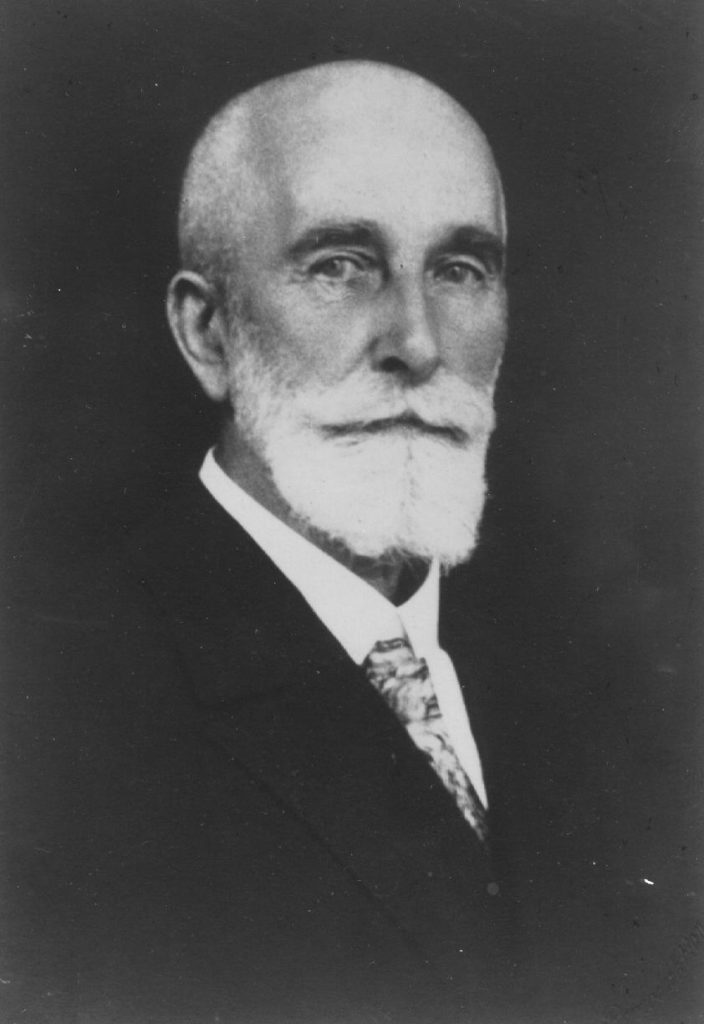 For an English language history of the firm that Robert Haberling founded:
As European empires and the new Pacific powers maneuvered for advantages, the design and construction of the landhaus at Prinz-Friedrich-Karl-Strasse 11 got underway. The project's developers could not have missed the increasing tension, but it had been a century since the Continent had been caught up in global strife. Prussia had won quick wars since then. Germany was far advanced, it seemed, in every respect since Napoleonic days.
Robert Haberling's moving and relocation managers knew that European economies were now so integrated that a Continent-wide war was unthinkable. And when the workers building the proud landhaus chatted on their lunch break, they had heard that Socialist parties of Europe had committed to calling a General Strike that would halt the troop trains and silence the guns by starving them of munitions.
Nevertheless, on 28 June 1914, a local incident in Sarajevo – the assassination of Austro-Hungarian Archduke Franz Ferdinand – led to a month of bungled diplomacy and then the multi-front war that earlier Prussian leaders had avoided was underway. Suddenly, Germans were fighting in the Pacific, the Mediterranean, Africa, Asia, and on two fronts in Europe. And they were doing fairly well against the commercial enemy, the British Empire. The threat of Slavic hordes from the East combined with initial success in the West to sweep commercial interest and labor interest in peace efforts off the table.
Not every worker was called up or diverted into war industries immediately. After all, many expected the war to be short, as the previous strife with Denmark and France had been. On 13 March 1915 the house at Number 11 was turned over to its first owner, Robert Haberling. The property also included the lots for Numbers 7 and 9. Walking past their expanse, it was about a ten-minute stroll to the new commuter train station. Along the way, a drugstore and other businesses had sprung up.
As the Royal Navy and British colonial troops methodically cornered, captured or killed overseas German forces and shut down trade routes, errors and opportunism by both sides brought European movement to a grinding halt. Closely observing developments was a young banker who had also lived in Zehlendorf-West since 1911. Hjalmar Horace Greeley Schacht was to recall in his memoirs four decades later that:
"…the great tragedy of the war was unfolding at the Front. On my way from the banking quarters of Berlin to catch my train home at the Potsdam Station I would pass the long queues of people in front of the shops with the badly lit windows, catchpenny articles and ersatz goods which now replaced the magnificent displays and excellent quality."

Schacht, My First Seventy-Six Years
Days of Revolution and Recovery
Times were tough in post-World War I Berlin as rival parties and factions battled to fill the vacuum caused by collapse of the discredited Kaiser's government. With much of the action in central areas of the city, the ever-observant Zehlendorfer Schacht noted unnecessary comic opera:
"The revolution in Zehlendorf started with the chairman of the Parish Council sending out invitations… The Parish Council, he said, had prepared a cheap popular lunch in an open-air restaurant situated on the borders of Zehlendorf, right on the arterial road from Berlin. When the revolutionary hordes came pouring out of Berlin, they would be attracted by this cheap lunch, appease their hunger and by the time they entered Zehlendorf itself would be as tame, so to speak, as lions in a state of repletion."

Schacht, My First Seventy-Six Years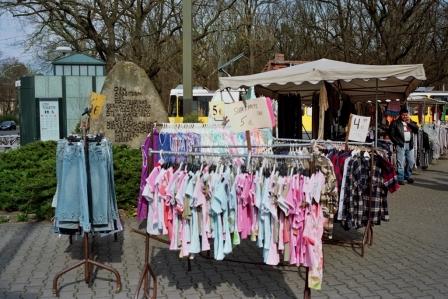 In 1920, right-wing elements struck back. Fighting extended into suburban Köpenick. In that year, Robert Haberling sold his villa; property tax records are missing for the next seven years of turmoil. During that time Weimar Republic politicians and German economic leaders such as Schacht struggled to keep the ship of state afloat.
From 1923, Hjalmar Schacht and his colleagues worked to stabilize the German Mark. The story of wild inflation is well-known, but others were working on restoring Germany's pre-WW I industrial and commercial preeminence.
On 31 January 1927 the Inter-Allied Commission of Military Control in Germany ended its administrative duties. Things were literally looking up as Junkers began air service in February to the oil boom towns of Baku, Teheran, Esfahan, and Bushire. As a sign of return to the old competition, when service began in the Persian Gulf city of Bushire, Imperial Airways of the United Kingdom had reached there a month earlier.
On 2 April 1927, as sound money policies took hold, the two-step German notary process recorded the intent to transfer ownership of Prinz-Friedrich-Karl-Strasse 11 (Sven-Hedin-Strasse 11 after 14 September 1927).
12 May 1927 brought a new face as owner of the villa, corporate director and head of personnel for Reichskreditgesellschaft AG, Leo Scheibner.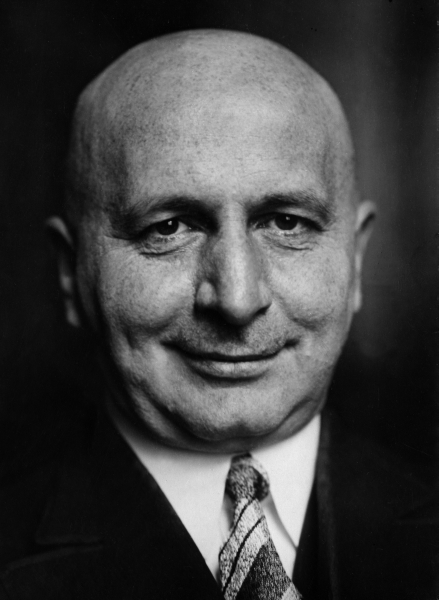 One day later, the German stock market crashed.
"The economic slowdown started in Germany about one year earlier than in the U.S. and the stock market had been on a declining trend since early 1927. The main reasons of the slowdown were the fall in profit margins due to excessive real wage growth and the large German borrowing abroad."

Andrea Sommariva and Giuseppe Tullio published in the September 1989 issue of The Journal of Banking and Finance.
Leo Scheibner sold his home to his employer, the Reichskreditgesellschaft AG. (Mass-circulation Bild in 2012 stated that Scheibner sold the home to Industrieanlagen GmbH in October 1927.)
This is a good place to pause for a moment and note that this is not a complete history of the villa. There are many nooks and crannies that may be explored by someone who has time in Berlin to find the records of the Reichskreditbank, for example. For post-World War II history, someone with time in Washington, DC and vicinity may fill in the U.S. Army's use in more detail than will be provided here later on.
It is possible that the property transfer was planned all along. It is also possible that the stock market turmoil may have put Bank Director Scheibner in awkward financial straights and that the transfer to his employer — a government-owned organization that specialized in distressed investments — relieved him of the unforeseen financial burden. (In 1908 he had donated five marks to the Deutsche Luftschiffer-Verband [German Airship Association], a modest contribution showing an interest in aviation by a young man early in his career. Donors from moneyed families were listed at ten to twenty times his amount.)
At some point in this period he became a director of the German Land and Construction Society, Inc. He resided at Sven-Hedin-Strasse 11 until his death in 1931. In fact, the city directory shows that the property included Sven-Hedin–Strasse 7 and 9, as well. A gardener also lived on the premises. Construction of more villas continued along the tree-lined street.
According to the city directory, the villa remained vacant from 1932 into 1934. In that last year, construction began on a house at Sven-Hedin-Strasse 7.
Neighborhood folklore, repeated in Bild in 2012, is that Hjalmar Schacht lived briefly in Sven-Hedin-Strasse 11 during this period. This is not reflected in city directories or in Schacht's autobiography. His daughter, Cordula Schacht, was born later, but in 2015 wrote that she does not recall her father speaking of that villa.
Days of Darkness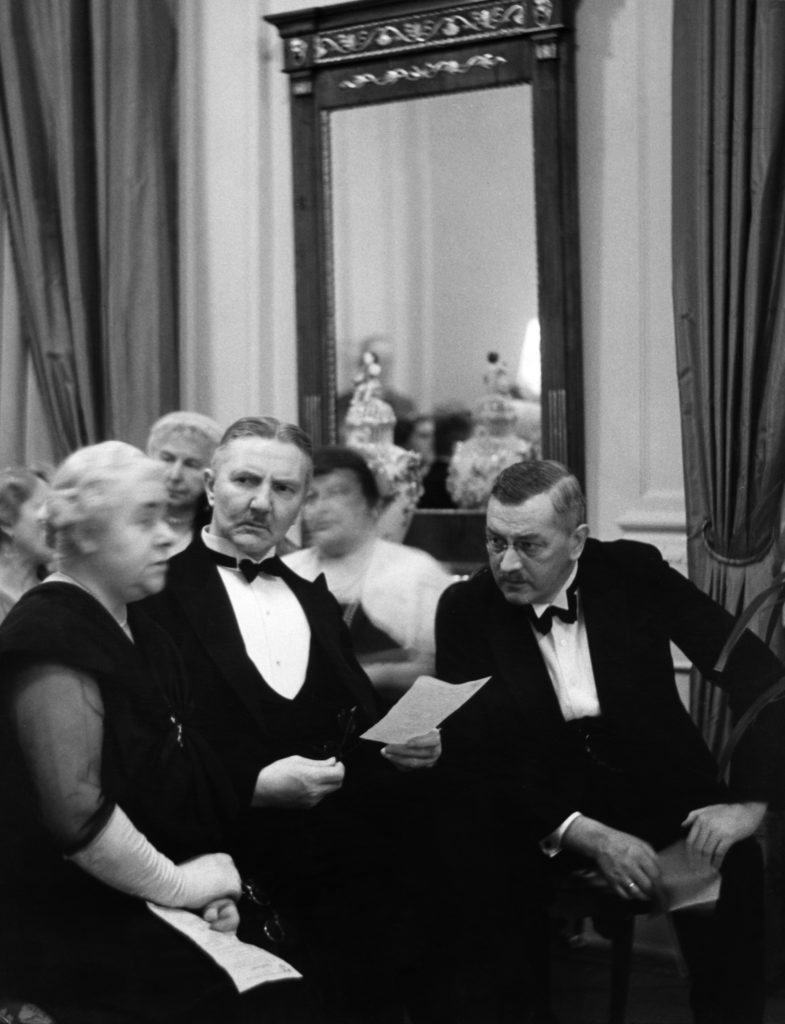 Hjalmar Horace Greeley Schacht evolved as a conservative German who agreed to serve in Hitler's government from 1933 into 1939 as president of the Reichsbank. He wore a "second hat" as Minister of Economics from 1934 into 1937.
As president of the Reichsbank in his first stint (1923 to 1930) he was provided with a city apartment convenient to his office; in his memoirs he recollected that it offered little privacy. This was balanced by a rural retreat:
"In 1926 I acquired a property about seventy miles north of Berlin, not far from Rheinsberg and Neuruppin. Gühlen, with its well-wooded grounds, surrounded by lakes, became in truth a source of recreation for me." —- "On leaving the Reichsbank my wife and I finally moved out to Gühlen, the property I had acquired in 1926."

Schacht, My First Seventy-Six Years
By the middle of 1933 he was intensely engaged in his return to the Reichsbank. In his memoirs he has a reference to being in the bank's city apartment in 1937.
In 1935, Walther Funk moved into the villa at Sven-Hedin-Strasse 11. If Hjalmar Schacht used the villa, it is likely that he was using it between mid-1933 and 1935 as a place for bank meetings or official gatherings. He had no need for another home.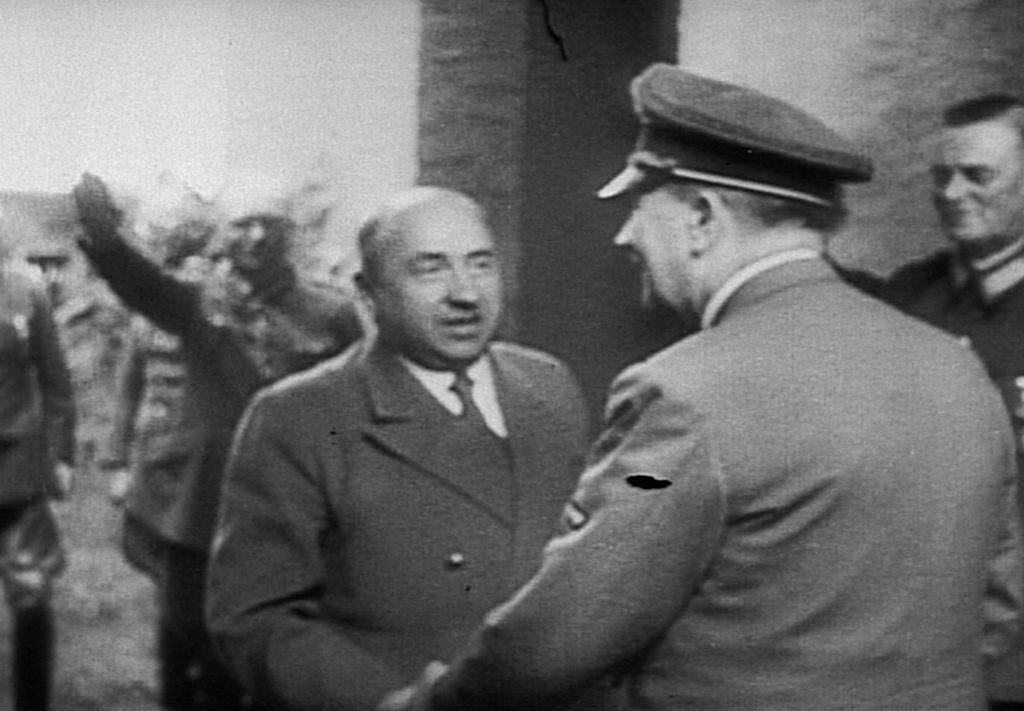 It is not the intention of this article to trace the entire career of one of the many supporting actors in the National Socialist drama. However, Walther Funk's rise in status was reflected in his Berlin homes. And, it may be connected to the belief that Hjalmar Schacht lived in the villa.
This is another good place for a side trip. Readers who have a basic knowledge of German will be interested to note that a popular history of Sven-Hedin-Strasse 11 omits Funk entirely.
https://www.bild.de/politik/inland/bnd/bild-zu-besuch-in-deutschlands-geheimster-villa-27153104.bild.html
Funk was a complex character. He drew the interest of the CBS Berlin correspondent, who noted in his diary:
"From Dr. Walther Funk, president of the Reichsbank and Minister of Economics, we also received a first glimpse into Hitler's "new order." Funk, a shifty-looking little man who, they say, drinks too much, but who is not unintelligent and not devoid of humour, admitted quite frankly that the purpose of the "new order" was to make Germany a richer land."

William L. Shirer, Berlin Diary, on 25 July 1940.
Funk began his Berlin residence coming from a career as a former business and economics journalist turned Nazi propagandist. He was able to communicate with types of people who were uncomfortable with others in the ruling circle. In 1932-34 he lived in the "villa colony" of Schlachtensee at Dübrowstrasse 29, listing his work as "editor-in-chief" in the city directory. He supervised the Reich Press Bureau, basically a public relations agency for the government.
The 1935 International Who's Who published in London gives his address as being at the central Berlin office of the Propaganda Ministry on the Wilhelmplatz. Published later that year, Wer ist's and the city directory showed him living at Sven-Hedin-Strasse 11. Wer ist's also noted that his family had been Evangelisch (Lutheran) since the 1600's and that he had sailed to New York in 1927.
Funk – as mentioned above – moved in circles where he came to the attention of society page journalists:
" Musical entertainment in the home of the French diplomat Pierre Arnal and his wife. Very posh. I am interested especially in Walther Funk and his wife. The stout Walther has never been very popular. Usually he is not quite sober. I still remember the time when he was very friendly with the non-Aryan Emil Faktor [editor] from Börsen-Courier. The two were inseparable. He is now Secretary of State in RMVP [Reich Ministry of Public Enlightenment and Propaganda (German: Reichsministerium für Volksaufklärung und Propaganda, or Propagandaministerium)]; his position requires that he lives in a magnificent palace. God knows who Funk has chased from his home to get this current home in the Sven Hedin road … "

Bella Fromm, her Berlin Diary, on 14 January 1936
Wikipedia biographies show that both Walther Funk and Emil Faktor left the Berliner Börsen-Courier in 1931. Faktor, a secular Jew who was asked to leave, returned to his Prague hometown to scrape out a living as a free-lancer, his life ended in 1942 in the Łódź Ghetto. Walther Funk went into politics.
By 1938 the International Who's Who showed that Funk had been busy: after his post as chief of the Reich Press Bureau and his appointment as Secretary of State in the Ministry of the National Economy and then in the Reich Ministry of Public Enlightenment and Propaganda, he had served as vice-president of the Reich Cultural Chamber, as chair of the Publicity Council of German Industry, as chair of the Reich Broadcasting Association, and as chair of the Berlin Philharmonic Orchestra (Vorsitzer des Verwaltungsrat).
In these positions he would have been responsible for guiding the organizations along National Socialist party lines. Nazi leadership did not have total control over society. For example, Eugen Jochum continued to conduct the Hamburg symphony in works by banned composers.
Funk's propaganda assignment led him down many odd paths. Strangest perhaps was his role in currying favor with the world-renowned explorer Sven Hedin. The Swede — for whom Sven-Hedin-Strasse was named — was sympathetic to Germany and the RMVP aided him in researching of a book on the Reich. Problems developed when Hedin insisted on being critical of some aspects of National Socialism. The explorer had his work published in an uncensored version in Sweden in September, 1937. A German translation was ready, but Funk wanted to delete the dangerous passages. Deadlocked, it was not published in German until a complete translation in 2014.
Funk's place in the pre-war Nazi hierarchy is reflected in a page from the 25 April 1937 weekend pictorial magazine of Berliner Tageblatt. He was on hand to celebrate his Führer's 48th birthday along with his boss, propaganda chief Joseph Goebbels.
SNP27646518-19370425-0-32-0-0

In the meantime, Hjalmar Schacht was becoming more and more of a problem for the new order. Preparations for war contradicted his economic development plans. He had tendencies toward outspokenness; he attended services at Zehlendorf pastor Martin Niemoller's church where sermons challenged government control of religion.
In November 1937, Schacht was removed from his cabinet portfolio of Reich Minister of Economics, staying on as Reichsbank president into 1939. Reliable Walther Funk succeeded him in both posts. As a business journalist he had an understanding of economics and finance, but did not have the world wide reputation held by Schacht.
Foreign journalists noted improvements in the Propaganda Ministry's operations after Funk was replaced there by Dr. Otto Dietrich, a longtime friend of Hitler.
"The conference held in this fashion [last of the day, for foreign press and radio] since 1933 had not been fruitful. Information was given, but it was largely routine, and many questions were met by the reply, "hier ist nicht bekannt" — the equivalent of "there is no information on that" or of "no comment" — and correspondents tended to ignore the conferences.

"Matters improved, however, after Dr. Dietrich became undersecretary and chief of the Press Department in the Propaganda Ministry in January 1938."

Robert W. Desmond, Tides of War
Walther Funk needed an even more elaborate residence in his new position: Am Sandwerder 17-19 had been the home of Hans Arnhold, prominent banker and cultural leader. The Arnhold family, Jewish, had turned their villa over to the Reichsbank in a forced sale after their timely move out of Nazi Germany. In 1938, newly minted Reichsbank president Walther Funk moved out of the "magnificent palace" on Sven-Hedin-Strasse and into the lakeside villa on Am Sandwerder. He moved out of this website history toward the dock in a Nuremberg courtroom.
https://www.americanacademy.de/about/hans-arnhold-center-history/
In the dark current of events leading into World War II it is often the case that readers organize their thoughts from the point of view of their country's role. This is especially understandable when so many pieces were moving on the global chess board at the same time.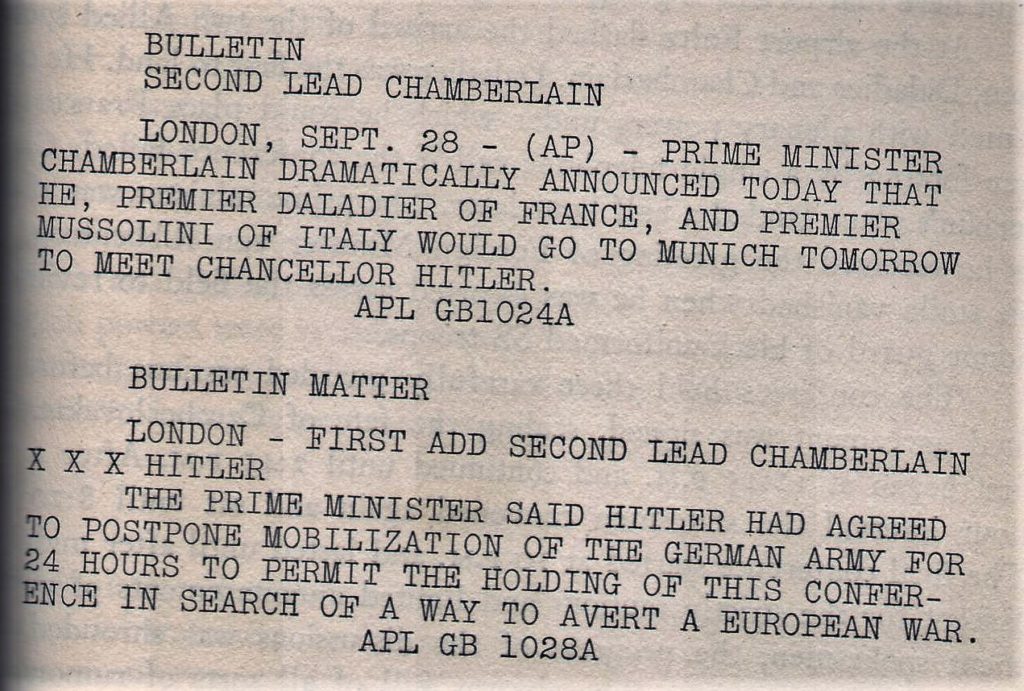 Anglophone readers know about "peace in our time" in 1938, but what happened to Czechoslovakia after that?

The trail leads from Munich on 30 September 1938 to Sven-Hedin-Strasse 11 to privately expressed anguish to an honored grave in the chaotic last days of the Third Reich.
A special train raced from Prague to Berlin on the evening of 14 March 1939. Departing the Czech capital at 4:00 p.m., it arrived in the Reich capital at 10:40 p.m., half an hour faster than a typical express. The special carried the acting Czech President Hácha; in his company were František Chvalkovský, other Czech diplomatic staff, and Hácha's daughter.
On the platform in Anhalter Bahnhof to greet them were officials of the Czech embassy, the Slovakian ambassador and a German delegation headed by Chief of the Presidential Chancellery of the Führer and the Chancellor, Dr. Otto Meissner. Meissner was a holdover from pre-National Socialist days and his main function seemed to be ceremonial.
Outside of the station a Wehrmacht honor company was formed up on the plaza under the flag of the Watch Regiment of Berlin. To the sounds of the order to "present arms" and the Presentation March, President Hácha was given routine military courtesy.
In the newsreel clip below — named Czech Foreign Minister in the post-Munich internal uproar that tore the young republic apart — František Chvalkovský is on the left side of the photo.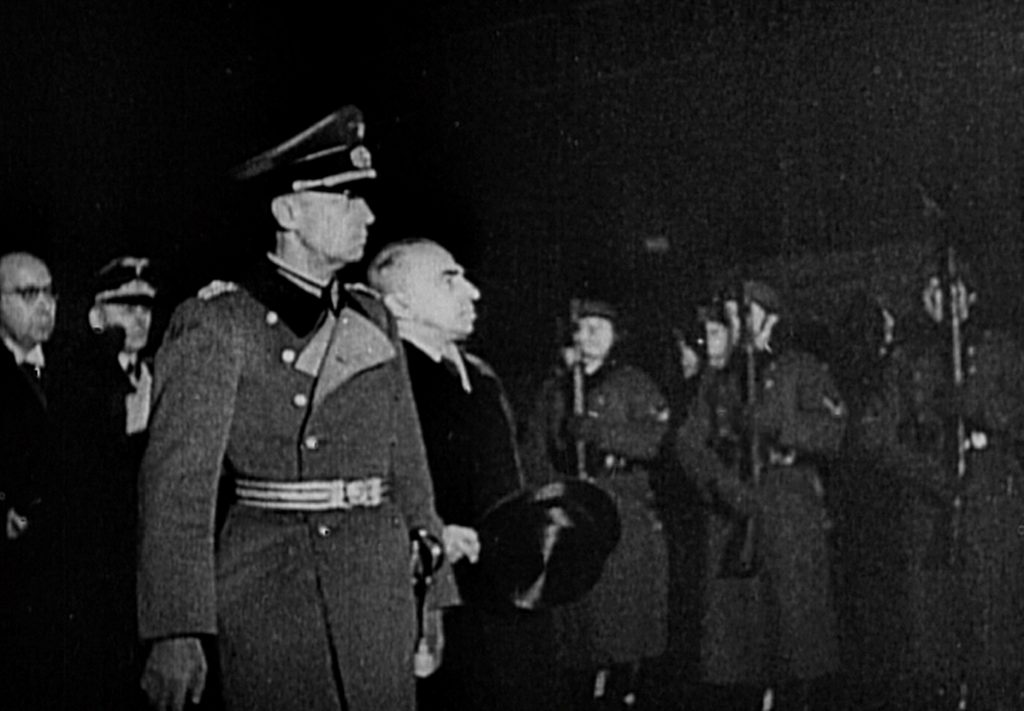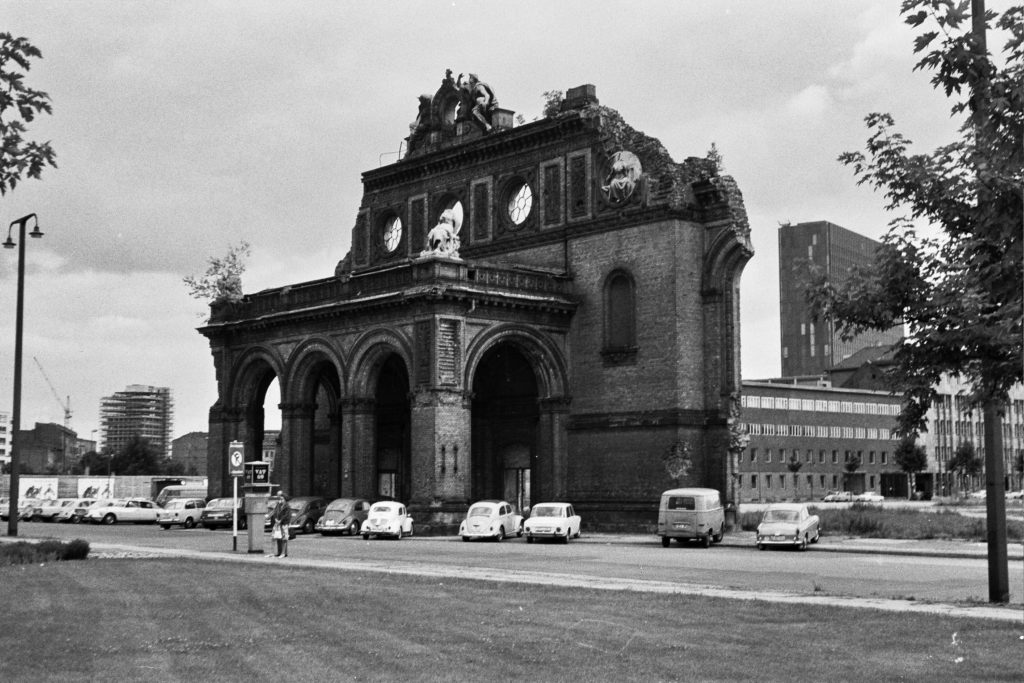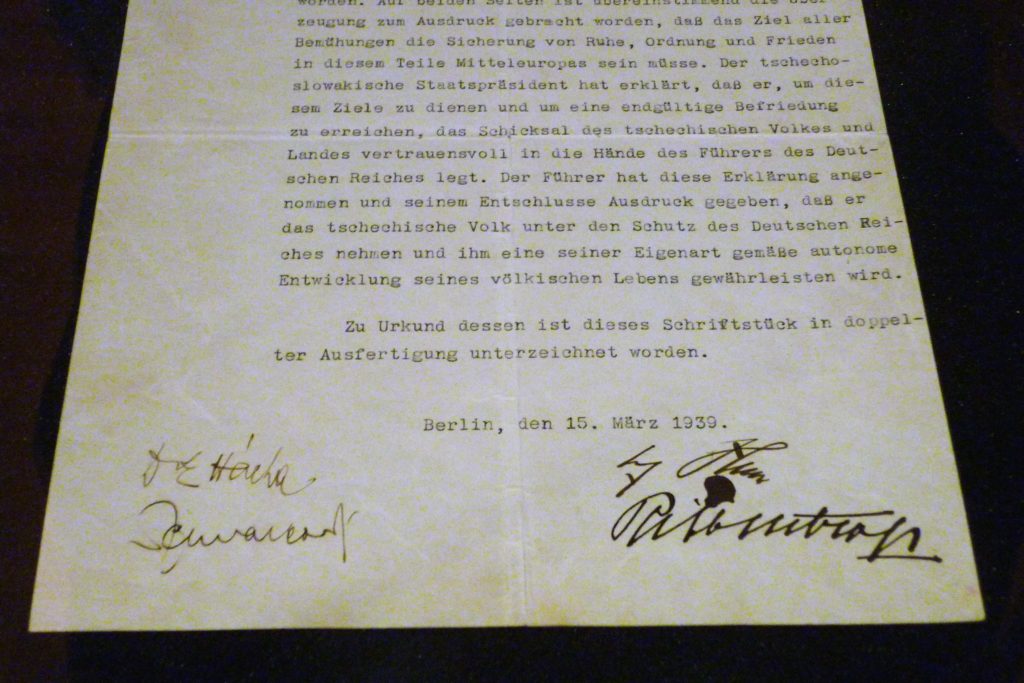 The story of the villa at Sven-Hedin-Strasse 11 is to be continued.