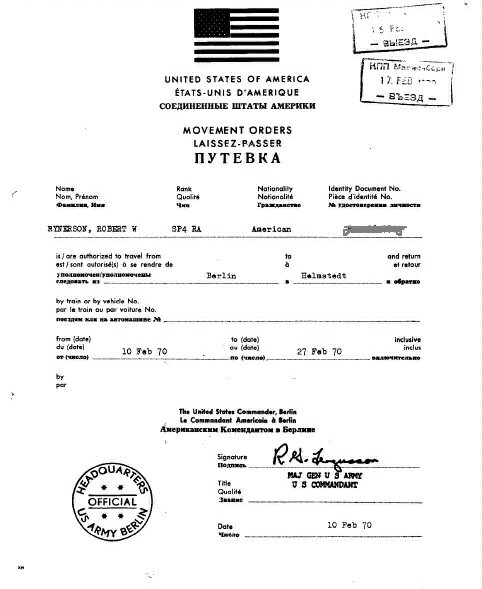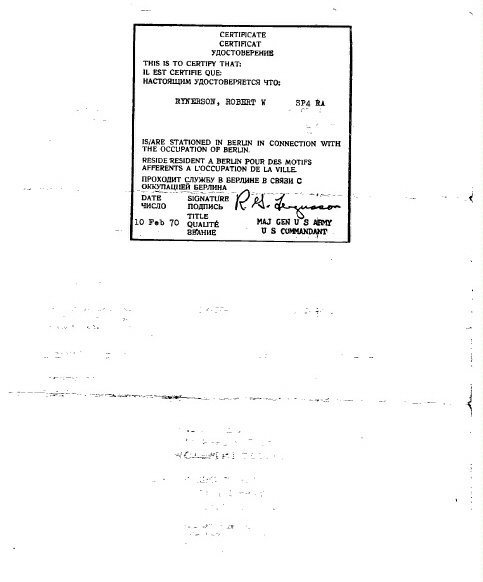 The original is in red, white and blue, with the stamps and signatures in purple. This form, for travel by land through the Soviet Zone of Germany (the German Democratic Republic), evolved in the late 1940's from individually typewritten travel orders. It looked impressive, and that is what it was intended to be. When included in the packet of paperwork for a trip into Spain, along with my Army pass, Spanish orders, French orders, Military train ticket, and so forth, it was the document that impressed the border guards on every boundary line.
The Russian rubber stamps show that I went out of the Soviet Zone on 15 Feb 70 and returned into it on 17 Feb 70. The flag orders themselves were written for a longer span of time, in case my plans changed. These orders were not required for air travel.
An important political note: as you can see, there is no German language information on this order. We did not recognize East Germany (the GDR) as a sovereign government until after I left Berlin. Rather, we recognized the Soviet Occupation Authorities there. In some senses, our relationship with the Soviets in Berlin was the last act of World War II, a generation after the war seemed to end.
Several films have included the oddities of this situation. Berlin Express, the 'Hollywoodized' version, was produced in 1948, and is available in English on videotape and DVD. The best in terms of accuracy was long only available on videotape in German and English. It is rarely shown on television in the U.S. In 2019 available on DVD, its English title is Stop Train 349. Clips with that title turn up in YouTube. In French it is Le train de Berlin est arrete. In German, it is Verspaetung in Marienborn, a title far more meaningful to the Berlin audience. "Delay in Marienborn" was a familiar phrase throughout the Soviet Occupation and GDR eras, and could range from meaning a minor operating problem to a major international confrontation. The 1963 film, a joint German/French/Italian production, starred Sean Flynn, Nicole Courcel and Jose Ferrer. Filmed in Bavaria where the Soviet checkpoint was recreated in a small town, it was based on an actual event. Rail/film fans will notice that the rolling stock in the movie was assigned to the Munich division of the Deutsche Bundesbahn. The U.S. Army logo was only applied to one side of each car.
For more information in English on Verspaetung in Marienborn:
German Language Video Center http://www.germanvideo.com/