1945 – 2020
This page is under construction, but here's some of what's ahead.
A house, but not a home
by R. W. Rynerson — July 2015 / October 2020
Sven-Hedin Strasse 11 in the postwar years.
At the end of April 1945 the city stopped and was reset to zero when the exchange batteries were depleted in the dial telephone system. The phones went silent. Fighting in the last days of the Third Reich went on throughout Berlin into May.
On Sven-Hedin-Strasse a new neighbor moved into Number 11, the Soviet district commandant for Zehlendorf. Even before the shooting stopped Soviet Army civil affairs personnel set about restoring city utilities and services under the direction of Colonel General Nicolai Bersarin. General Bersarin had a distinguished combat record but had been educated as an engineer. By mid-May he had appointed district commanders. On May 13th, a week after Berlin's defenders had formally surrendered, the first bus lines resumed service. On the same day the first postwar music concert was held. An U-Bahn line opened the next day. These are just a samples from the whirlwind of activity that was necessary to restore and maintain life in the damaged city. Ironically, on June 16th the general was killed in a motorcycle accident but parts of the Soviet forces continued his work.
Other parts of the Soviet forces carried on behavior tolerated by their leaders as revenge, payback, tit for tat for the behavior of German forces in their invasion of the Soviet Union. It is important not to ignore this because it colored subsequent events.
As described in The City Becomes a Symbol, the Soviet occupiers were not all on the same script and this was about to create problems for their Allies who also were not operating on the same script — or any script at all.
========================================
Press Club of Berlin – Everyone comes to Barney's
On July 1, 1945 Lieutenant Colonel Barney Oldfield, USA, was scouting for just the right location for a new Berlin Press Club. As a Public Relations Officer he and his unit had worked their way from England to France to Belgium to the meeting with the Soviet Army on the Elbe River. By 1945 he had a good idea of what the front line print, radio and newsreel people needed — and what in addition they expected.
The unit had located homes in Zehlendorf that could be requisitioned. Quartering troops in private homes with families is un-American; it was one of the causes of the American revolution, so it was prohibited and German families were evicted. Unlike some of the requisitions, Oldfield used a workaround to keep the home owners in their homes – by hiring them as caretakers. This turned out to be just one of the un-military schemes that Oldfield and his team concocted in 1945-46.
His memoirs claim that he found the villa at Sven-Hedin-Strasse 11 by accident and quickly recognized it as ideal for a role of press club. He does not mention that it was owned by the German government, but his interpreter told him that Walther Funk had lived there.
The immediate problem was that the Soviet general commanding the borough was in possession of the villa, complete with an armed bodyguard. It took a day of hard talk for the colonel to convince the general to leave.
He quickly ordered it superficially trashed. By 1945 he had been in the Army long enough to know what would happen next. He claimed that 18 generals visited the house while looking for a Berlin residence to commandeer. Oldfield did not have the house renovated until Commanding General Parks had put a freeze on the villa on behalf of the press club.
Before the club even opened he had his first VIP visitor. Marlene Dietrich had obtained clearance to fly into Berlin on a military plane. Oldfield arranged for her mother, who had survived the Battle of Berlin, to be on the field at Tempelhof to greet her. At that time she probably did not visit the under-renovation press club, but later she was in and out of Berlin so may have joined the list of club celebrities.
One way to keep the front-line press happy was to have a supply of liquor on hand. But normal business channels were disrupted. A major breakthrough on the alcohol front was the discovery that there was a large and diverse stock of beverages left over from the Potsdam Conference (July 17th – August 2nd). A Staff Sergeant with a covered truck was sent to Babelsberg where the liquor was stashed. He discovered that to get it released someone high up in the Potsdam Conference staff had to sign for it. So, being an enterprising NCO, he signed "General George C. Marshall" for half of it and "President Harry S. Truman" for the other half. A payment of $3200 was due by August 17th.
Journalists howled in anguish at being asked for a $25 membership fee before even being permitted to set foot in Sven-Hedin-Strasse 11 but the lure of the classy facility, a place to make contacts, play cards or billiards, and — yes, a well-stocked bar in the war-ravaged city — worked. The club ran successfully and paid its debts.
On August 10, 1945 the new Berlin Press Club opened. It coincided with a USO tour including comedian Jack Benny, film star Ingrid Bergman, pop singer of the Big Band era Martha Tilton and famed harmonica player Larry Adler. They headlined the event, which was attended by Army brass and well-known journalists.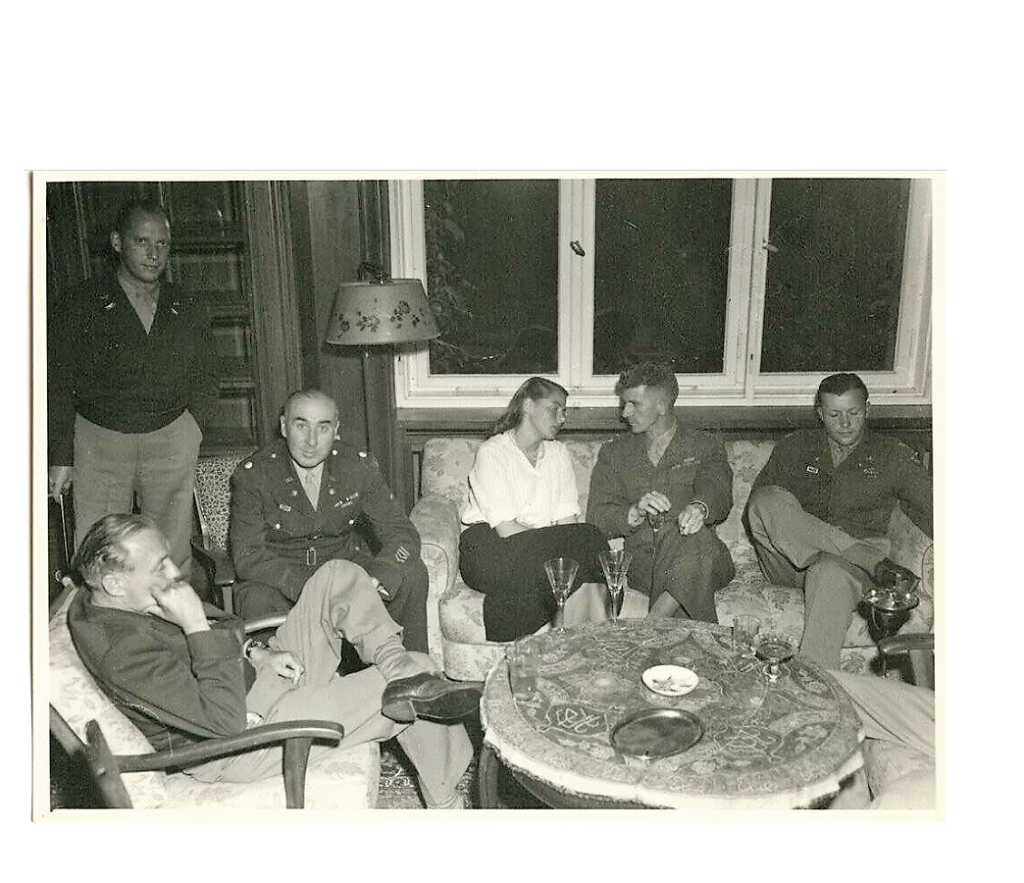 In its brief existence the Press Club entered American literature. Leon Uris, best known as the author of Exodus (the novelized founding of the modern state of Israel), applied his talent for deep historical work to postwar Berlin. His 1963 novel Armageddon spans the time from January 1944 through the end of the Blockade. Along the way his thinly disguised real-world characters dropped in at Sven-Hedin-Strasse 11. The street address was not given but the property, the neighborhood and nearby streets were identified.
Two scenes have a cinematic feel, unsurprising because Columbia Pictures funded some of Uris' research. In Part 2, Chapter 33, Sean, an American officer who hates Germans finds himself in the villa's garden for a deep and warm conversation with Ernestine, niece of a key Berlin political leader and daughter of — well, for the rest of the story, read the book. In Part 4, Chapter 24 chit-chat at a journalists' card game is a realistic device for providing some background information. It is soon interrupted by a mysterious phone call.
Colonel Oldfield had real world film makers on hand. The most intimately familiar with the city was Billy Wilder. Oldfield assigned two Army photographers to aid him in his documentation of potential locations. Wilder's biographer, Maurice Zolotow and film historian Elaine Lennon found that Wilder's personal story went deeper into Berlin than the business of making a Hollywood film.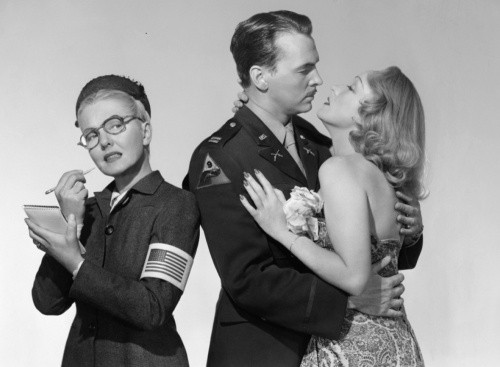 Zolotow states that, "he put in this film all the things he had seen and felt during his six months as an officer of the occupation. He put into it all the hate and reluctant admiration [he] felt for the Germans, and especially for the Berliners, for Billy could have said with John F. Kennedy, 'Ich bin ein Berliner.' In a certain hard uncompromising quality of his sensibility, his approach to human events, he had that cynical Weltanschauung of the Berliner" (Zolotow: 154). If A Foreign Affair commenced as a seduction of Germany by the United States, then the complementary effect, the defrosting of an American Congresswoman by the sheer intractable force of a city's charisma, is the happy result, along with the exposure of an occupying force that itself becomes compromised, fraternized and ultimately colonized. America may have decided to woo Berlin but it was seduced right back in what was the most devastating and personal film of Billy Wilder's extraordinary career in American cinema.

Elaine Lennon, film historian, in https://offscreen.com/issues/view/volume-19-issue-3
Film trailer https://youtu.be/iSAzq8FUgiE
Black Market https://youtu.be/02U-iFF9Lug
1946 to 1971 to be continued